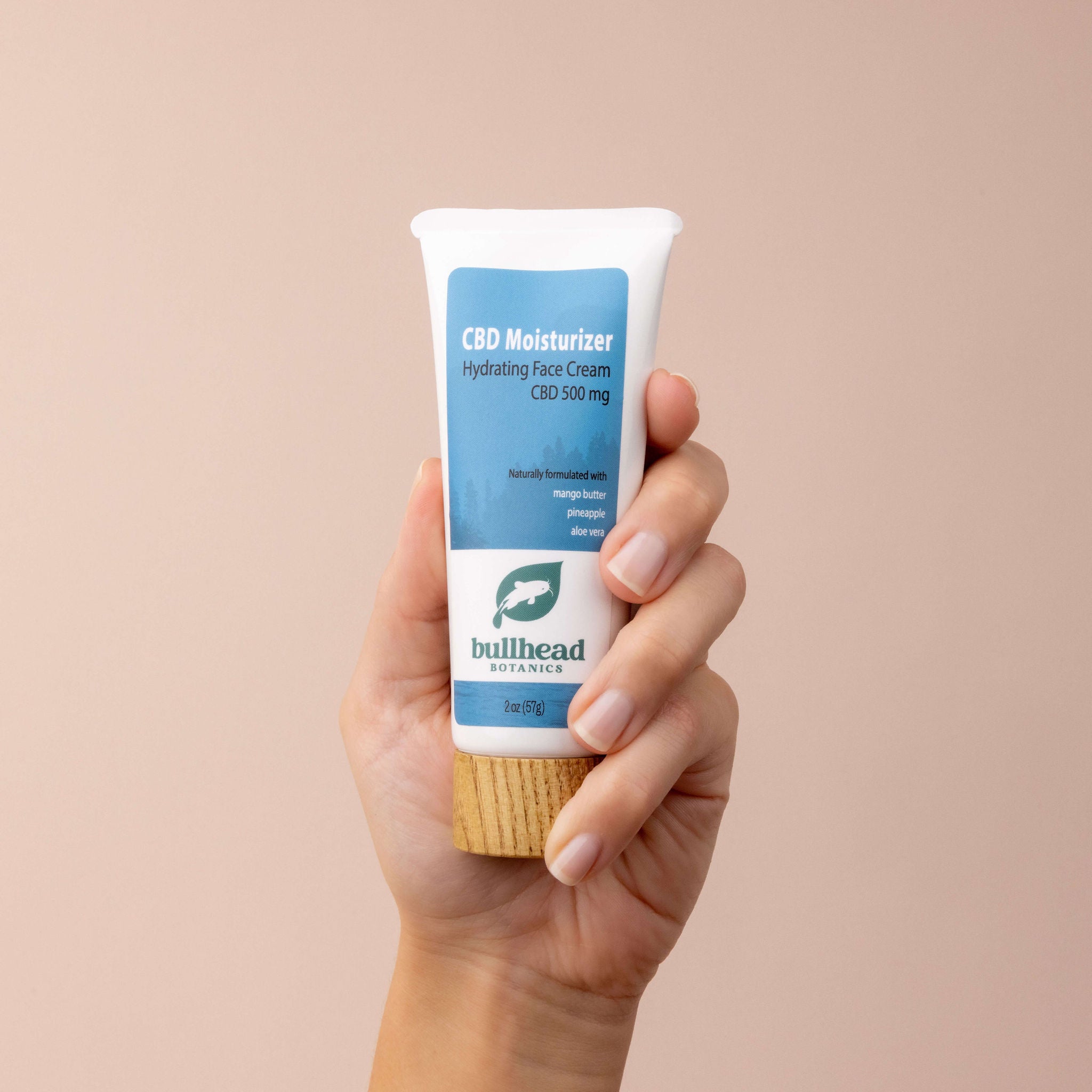 CBD for Clear and Healthy Skin
Written by Brian Davis, Head of Research and Development at Bullhead Botanics, and a person who never took care of his skin.
CBD has been shown to have powerful anti-inflammatory and antioxidant effects when applied topically. 

When combined with other functional skincare ingredients, CBD cosmetics can provide healthy, balanced, and hydrated skin. 

CBD has also been shown to help with skin conditions like acne, psoriasis, eczema (atopic dermatitis), itching due to inflammation (poison ivy or bug bites), and redness.

In addition, CBD may offer skin barrier protection and aid in wound healing. 
My Skin Used to be a Disaster
I've struggled with bad skin in the past. Acne, pimples, dryness ... I just thought it was normal. Half the time my skin was ok, and the other half I had breakouts that would look awful, and they ALWAYS seemed to happen before an important event like a wedding, job interview, or blind date (I found that stress was a huge factor in my skin health haha).  I used spot treatments, pore cleansers, and acne scrubs, but I never found consistent results. 
Once I started researching and developing CBD skin care products for clients, I found myself using all of these products (I test every product I make on myself), and I discovered that once I developed a CBD skincare routine, my skin was smoother, more balanced, breakouts were less frequent, and the severity of these blemishes was greatly reduced. So why were these products suddenly working?
Here are some screenshots of my skin before and after 4 days of using only our CBD Pineapple Face Cream, Eye + Wrinkle Serum, and showering once a day.
Before: You can see many blemishes, unevenness, and breakouts.
After 4 days of CBD Skincare routine: Skin tone is much more even, appears smoother and healthier, and most of the blemishes are gone completely with one still healing. 
What does CBD do when it's Applied to the Skin?
When applied topically, CBD soaks into the skin and interacts with the body's endocannabinoid system on CB1 and CB2 receptors, which are present throughout the entire body. Research indicates that both CB1 and CB2 receptors are found in many different parts of the skin  (epidermal keratinocytes, cutaneous nerve fibers, dermal cells, melanocytes, eccrine sweat glands and hair follicles). While cannabinoid receptors remain the primary targets for endocannabinoids, they have also been shown to bind to Transient Receptor Potential (TRP) receptors present in various types of skin cells (Figure 1 below) and are involved in different functions like formation and maintenance of the skin barrier, cell growth, cell differentiation, immunological and inflammatory processes. To put it simply, cannabinoids can have a major impact on many of the functions that are essential to healthy skin. (Citation 1 found at bottom of article.) 
Figure 1
Why you Need CBD in your Skin Care Routine.
To put it simply, CBD is a powerful antioxidant and anti-inflammatory - two key ingredients to healthier skin. 
CBD can: 
Help regulate oil production, which helps with breakouts

Neutralize free radical damage, which mitigates the signs of aging

Calm, nourish, and balance the skin, contributing to a glowing complexion

Smooth and hydrate your skin

Reduce redness and irritation
At Bullhead Botanics, we combine this powerful ingredient with other natural and functional ingredients like pineapple extract, mango butter, aloe, hyaluronic acid, vitamin E, Peptides, Retinol (vitamin A), Vitamin B, and Kojic Acid to make CBD skin care cosmetics that provide strong and consistent results. 
Can CBD help with skin conditions?
Acne, psoriasis, and eczema are all very common skin issues. CBD's anti-inflammatory properties have been shown to help manage these conditions by the reduction of redness, irritation, and dryness. CBD has also been shown to exert antioxidant activity, which could help support the repair of damaged skin; reducing wrinkles, breakouts, and blemishes. 
For me personally, my biggest issue is acne and breakouts. Studies show CBD as a potent "universal" anti-acne agent, possessing a unique "triple anti-acne" profile (See figure 2 below), that is not only effective, but much safer than the current most effective anti acne agent, isotretinoin, which is known to cause serious side effects, like joint pain, birth defects, mental health problems, and stomach issues, in addition to common side effects like dry skin and chapped lips. (See Citation 2 located at bottom of article)

Figure 2-Schematic overview of the cellular "anti-acne trinity" of CBD and its proposed mechanism of action.
Which CBD cosmetics are right for me?
If you're looking for clearer everyday skin, our CBD Moisturizer contains an everyday therapeutic dose of CBD to help reduce redness, irritation, acne, and lock in moisture. It's great right after a shower or first thing in the morning after you wash your face.
To help with those under eye bags, wrinkles, and dark spots, our CBD Anti-Wrinkle Cream is a powerful blend of Retinol, Natural Peptides, Kojic Acid, and many other ingredients to reduce puffiness and smooth out all those fine lines.
We also have many more CBD cosmetic products in research and development currently, and will be released soon.
As always, if you ever have any questions or want to discuss anything CBD, just reach out to me through our Contact Page and I'll be happy to have a conversation with you! Thanks for reading!
Citation 1-(Baswan SM, Klosner AE, Glynn K, Rajgopal A, Malik K, Yim S, Stern N. Therapeutic Potential of Cannabidiol (CBD) for Skin Health and Disorders. Clin Cosmet Investig Dermatol. 2020 Dec 8;13:927-942. doi: 10.2147/CCID.S286411. PMID: 33335413; PMCID: PMC7736837)
Citation 2- (Oláh A, Tóth BI, Borbíró I, Sugawara K, Szöllõsi AG, Czifra G, Pál B, Ambrus L, Kloepper J, Camera E, Ludovici M, Picardo M, Voets T, Zouboulis CC, Paus R, Bíró T. Cannabidiol exerts sebostatic and antiinflammatory effects on human sebocytes. J Clin Invest. 2014 Sep;124(9):3713-24. doi: 10.1172/JCI64628. Epub 2014 Jul 25. PMID: 25061872; PMCID: PMC4151231.)
FDA Disclaimer: The statements made regarding these products and the efficacy of these products has not been confirmed nor evaluated by Food and Drug Administration. These products are not intended to diagnose, treat, cure or prevent any disease. They should not be used if pregnant or nursing without first consulting a physician. All information presented here is not meant as a substitute for or alternative to information from health care practitioners.
CBD
Find out exactly how CBD creams and topicals interact with your body and help support pain relief in this easy 4.5 minute read.
Read more